Manage your service with ease
Counselling practices of all sizes can use Sgioba

Your Own Practise Portal
Easy Client Registration
Seamless Process Flow
Effective Documentation
Team Management
Productive Appointment System
Multiple Levels of Security and Privacy
Single Signon for your Staff
Your Own Practice Portal
You can customise a full web page to promote your business, this provides a link which you can publish to allow future clients to follow through to your registration form. You have a great opportunity to promote your practice, give information and state your terms and conditions.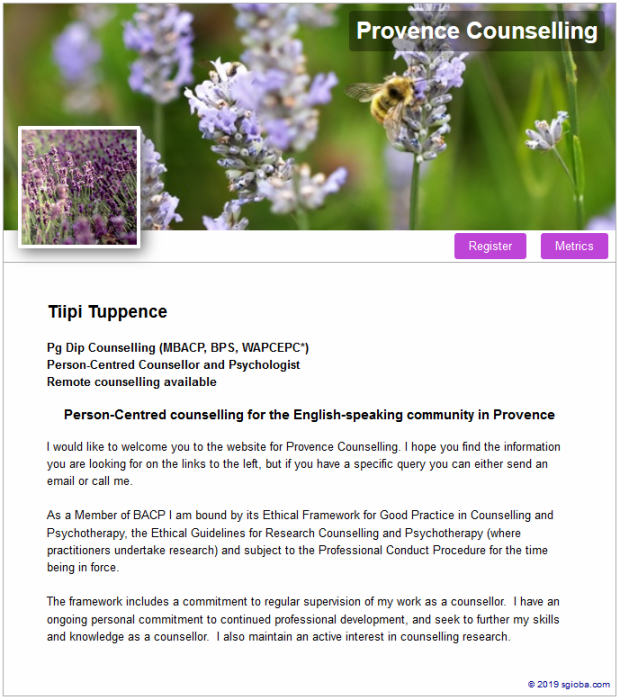 Easy Client Registration
Design and configure your own registration form. Your client can reach out to you from the comfort of their own home, while suppying important information to allow you to decide the best way in which you can help them.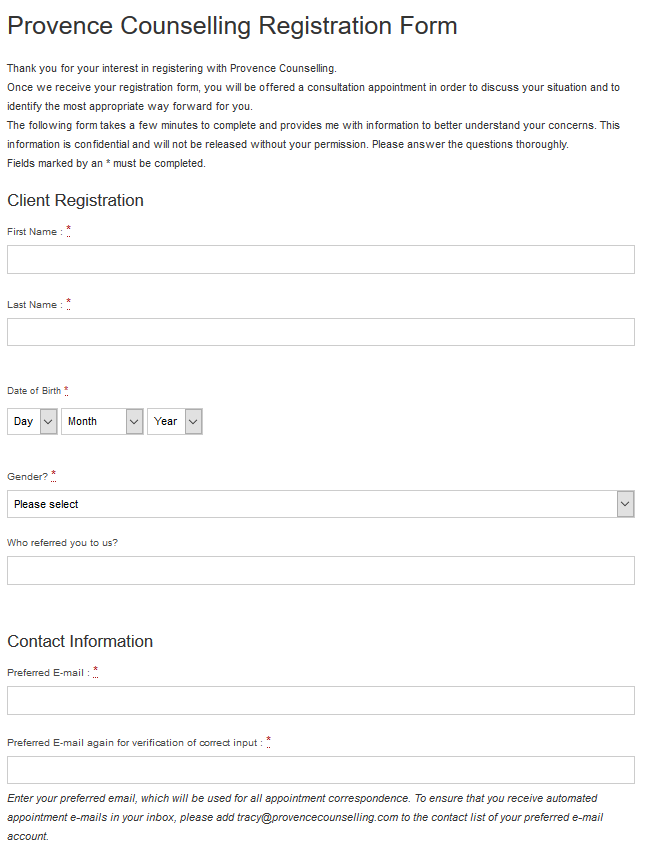 Seamless Process Flow
Each stage of a client's progression is fully documented with Registration, Session notes, Appointments and Treatment Summary forms. Client details are presented depending on their status. Active clients are grouped together so you know immediately who needs attention.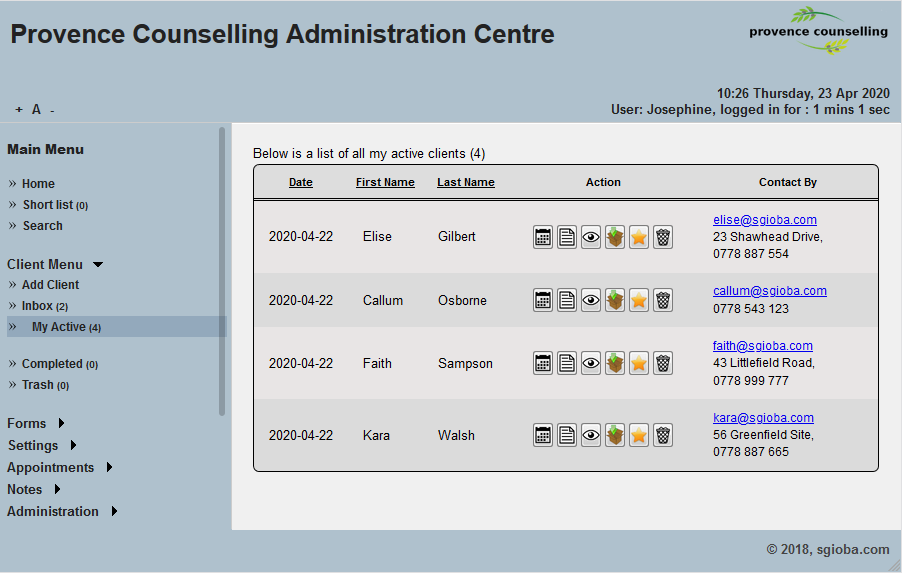 Effective Documentation
Interactions with clients are easily documented, including impromptu conversations via email or phone. Add notes directly into the system, or copy and paste notes into our user friendly interface.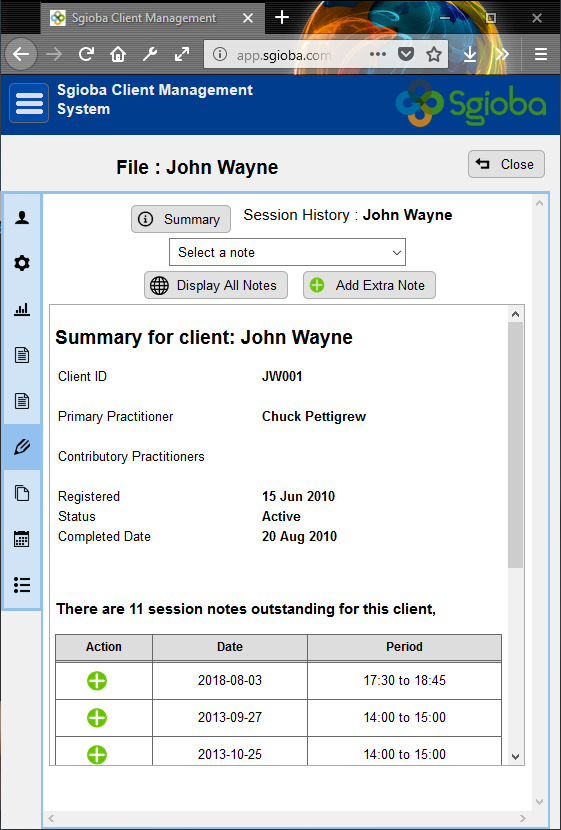 A full documentation interface allows the practitioner to locate and view all the associated documents and notes for each client. Privacy options allow varying degrees of accessibility for the security of the client and practitioner.


Treatment Summary
Using predefined forms, a full history of the client can be tracked from registration, initial consultation to ending of treatment.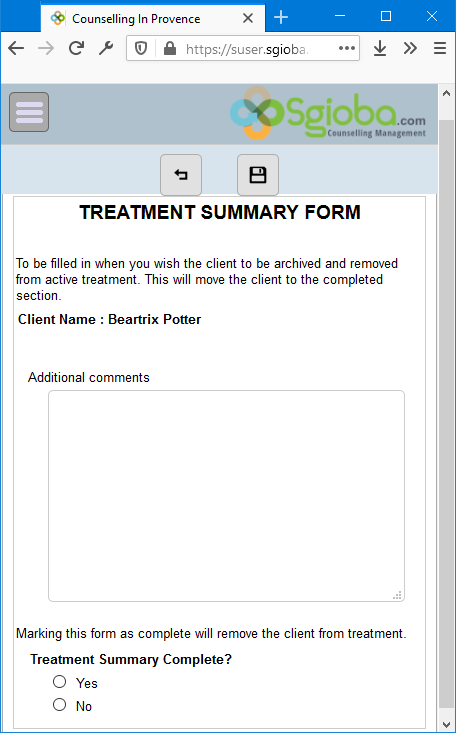 Security: We Care About Your Privacy


Regular Password Change Prompting
Browser Encryption
Encrypted on Server
Protection of Client Information
Fully GDPR Compliant
Easily Facilitate and Streamline Your Workflow
Enter client notes to record full client history
Search the database for information
Keep track of clients with a Bookmarking facility
Easily receive feedback
Run reports on your client data
Highlight at-risk patients


Online Well-being Questionnaires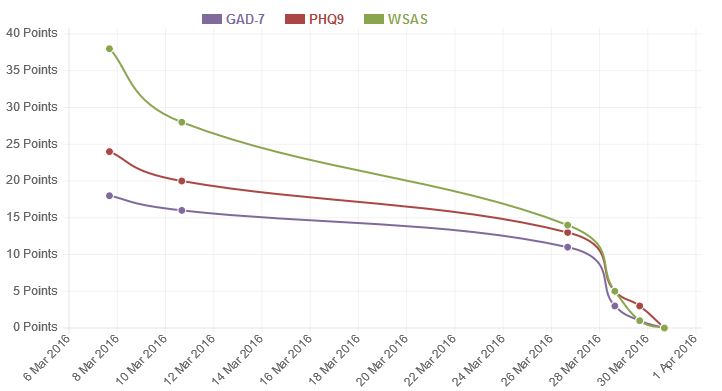 Design Your Own Questionnaires
Use Industry Standard GAD-7 / PHQ-9**
Online Completion via Client Device
Instant Graphing
Well-being Reporting
Counselling Team Management and Reporting
**Permission to use these questionnaires must be obtained first.